I woke up tonight and had too many thoughts on my heart to go back to sleep. Perhaps not so much thoughts, but rather people. I have new and old friends, brothers and sister in Christ, who I find in need. They are searching, and somehow I know about it. So, I pray for each of them, and continue to think of how I should respond. I want to give them answers, but often I am not ready with answers when I am asked.
My anxiety is unnecessary and silly, since God gives His people the Holy Spirit that enables them to answer. In a mysterious way, He enables us to choose the right thing to do in all circumstances. Sometimes the right thing for me to say is nothing, or admit I don't have the answer.
Exodus 4:12
Now go; I will help you speak and will teach you what to say."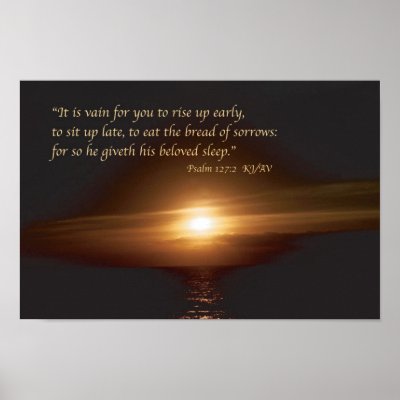 Matthew 10:19
When they deliver you over, do not be anxious how you are to speak or what you are to say, for what you are to say will be given to you in that hour.
That is as far as I got last night, before I thought about these verses:
God builds the house. We need not be sleep deprived in our efforts. It brings sorrows. I can certainly say I have had sorrows from not getting enough sleep. So I realized I was staying up to toil, to study that I might answer, to mull over issues, when I should just do everything to stay asleep, or at least rest in bed. Especially given that I'm causing my baby daughter in bed to wake up from the unfamiliar feeling of my absence, which is causing my husband to wake up. So, rather than serving God by my midnight study, I'm actually only trying to satisfy
my
desire to do things while not doing what I'm supposed to be doing, taking care of my family by enabling them to sleep. It's a good feeling to know that I was totally wrong, to confess to selfish actions and needless anxieties, and, placing my hope in the only sure Rock, just go to sleep.